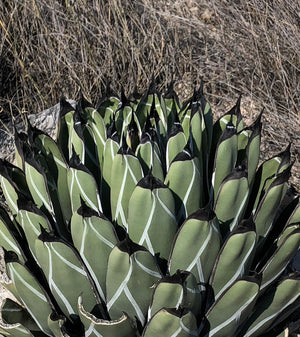 Agave nickelsiae
Sale price Price $20.00 Regular price Unit price / per
An agave that had long been considered a form of A. victoriae-reginae and referred to as A. ferdinand-regis, or ferdinandi-regis in Gentry, was most recently in 2011 given its proper due. A group of Mexican botanists (González- Elizondo, M.S.; González- Elizondo, M.; Lúpez- Enriquez, I.L., Reséndiz-Rojas, L.; Tena-Flores, J.A. and Retana-Renteria, F.I.) split up the A. victoriae-reginae complex into three species and one subspecies with this form reverting back to Agave nickelsiae, the name it was described as by the French botanist Robert Roland-Gosselin. Roland-Gosselin named the plant in honor of Anna Nickels, an intrepid Texan who collected various plants in the 1800's in Mexico, including this plant that now bears her name.
Agave nickelsiae can be found growing northeast of Saltillo, in Coahuila, Mexico. I have seen plants at the so called 'chicken ranch' on limestone between 4600-4900' growing with Agave asperrima, A. lechuguilla, and A. asperrima x A. nickelsiae field hybrid, which are the parents of the popular field hybrid Agave 'Sharkskin'. Agave nickelsiae is a generally solitary plant with beautifully painted white markings, a solid white toothless leaf margin, and a showy black terminal spine that usually has two smaller spines at its base. The vivid white markings, jet black terminal spine, and deep green leaf make Agave nickelsiae excellent in containers or planted among colorful drought-tolerant perennials. When bloom time comes, expect a tall thin spicate inflorescence 10-20' up, with white flowers and purple anthers. Along with Agave 'Sharkskin', for which A. nickelsiae is one of the parents, these two have the tallest inflorescence relative to the plant's size. These plants at maturity are 1-2' tall and wide and are hardy to the low to mid teens.
Plants in 3rd picture are in a 5″ pot & will be shipped bare root.